Standard Bin 4m³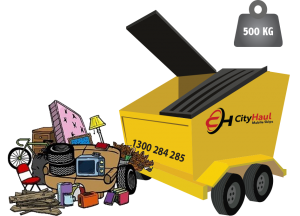 $420
Included:
3 days hire

500 Kg

General Household Waste
Light Construction Waste (1-2 Wheelbarrows)
Office waste
Heavy Bin 4m³

$490
Included:
3 days hire

1000 Kg

Building Materials
Construction Waste (Up To 5 Wheelbarrows)
Packaging
Extra Charge Items:
Mattresses: $105 (

must fit inside bin

)
Tyres (Car only): $45
Extra Weight: $40 Per 100 Kg
Extra Days Hire: $35 Per Day
We Do The Loading For You
Standard Bin: $165 Per Bin
Heavy Bin: $195 Per Bin
All prices are quoted in Australian dollar and include GST.
Please adhere to the Waste Guidelines. The Hirer will be responsible for any costs associated with Asbestos Contaminated Loads.
All other prohibited items will also incur a Fee. Check our Waste Types page for more information on what you can and cannot put in.